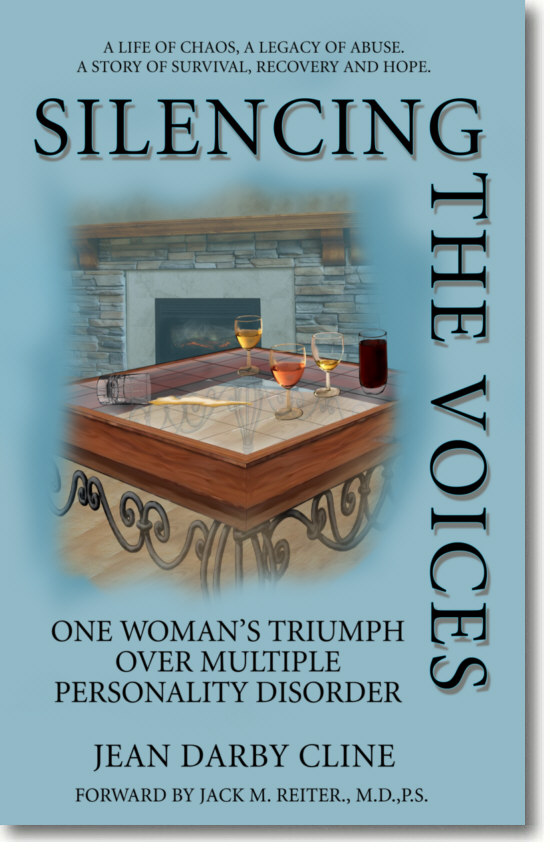 Silencing the Voices
   One Woman's Triumph over
         Multiple Personality Disorder
   by Jean Darby Cline
   Foreword by Jack M. Reiter, M.D., P.S.
   Originally published by Berkley Publishing Group (1997)
   Now available in eBook form
   Available on Amazon's Kindle
   ISBN 978-0-9839733-4-8

Silencing the Voices: One Woman's Triumph over Multiple Personality Disorder is Jean Darby Cline's personal account, providing an insider's view of living with and healing from multiple personality disorder. The foreword is written by Dr. Jack M. Reiter, a Seattle psychiatrist, who worked with Jean from discovery through recovery.
"The public view of MPD is so bizarre that most people simply can't relate to the lives of those in recovery. Most of us with MPD live relatively normal lives--working, raising kids, going to church. Silencing the Voices gives you a chance not only to see what it's like to live with MPD, but also see what it is like to go through the recovery process. Those in recovery will understand that reintegration, the ultimate goal of being well and whole, is to be welcomed, not feared." -Jean Darby Cline
The Book
This true life story is unique for many reasons. It shows that MPD is a defense mechanism utilized in post-traumatic stress syndrome, a condition that can be resolved. The story takes you through all the stages of denial and conflict, understanding, acceptance and total reintegration, through a healing process based on faith, trust, and love.
What if someone who had recovered from multiple personality disorder also happened to be a "masterful story teller?" You will get drawn in so thoroughly, you can feel what it's like to live as a multiple!
There's a Synopsis of the start of Jean's journey to wholeness.
Watch Jean's Presentation on MPD / DID
What Others have Said
Stewart Stern, award-winning screen writer of Sybil, said, "This book is riveting!"
Dr. Bryan Van Dragt said, "Silencing the Voices invites the reader to explore the multiple's jigsaw-puzzle mind ..."
Author and teacher Peggy King Anderson called Jean a masterful story teller. "This book is an affirmation and a powerful tool for all who were abused, whether or not they have multiple personality disorder."
Seattle business woman Margaret Gering, was angry when she read the book--she wasn't warned.
Dr. Jack Reiter, Jean's psychiatrist, who wrote the foreword to Silencing the Voices, regards the book as a valuable tool for helping MPD patients and their families.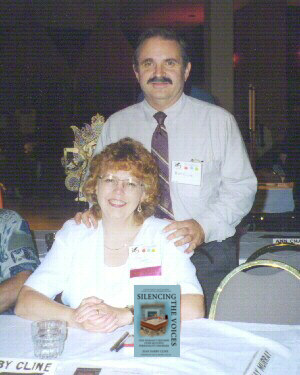 Pictured are Don and Jean Darby Cline
at the Pacific Northwest Writers Conference, July, 1997.
Thank you for visiting our web site!
E-mail comments to Jean Darby Cline.